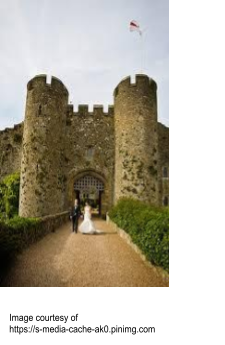 You've got your ring. Check.
You've got your fiancé. Check.
You've got your wedding to plan. Check… almost.
Wedding planning is difficult. Central to that is the venue you choose to host the big event. It is the critical backdrop to your wedding, and it plays a major role in overall ambiance.
Are you looking for the rustic feel of a
barn
or the classical elegance of a hotel? If you're in Michigan, you may want to look into the
Townsend Hotel
. If you want something more traditional you might want to look at a
historic home or castle
in your city. Are you a more modern couple? You may want to look into a loft. There are so many different venues that you can choose from – whatever your taste pulls you to, there are few things you should keep in mind when making your decison:
Estimate the Number Of People
When choosing a venue, you need to estimate how many people you expect to come. You want to be sure the venue you choose is able to handle your wedding size, large or small. Almost all wedding venues will have a minimum guest count , and it is a good idea is to keep your estimate to a more conservative number. It is easier generally to add a guest to the count than to remove one. You don't want to end up paying for guests that won't be attending.
When you are planning your wedding you need to sit down with your fiance and determine what your budget is going to be. You need to look at what you can afford as well as the going rates for your desired wedding location. By having your budget ready, you can avoid the heartache that comes from seeing the perfect location you can ill afford. When budgeting, you need to assign no more than 50% to the venue.
If possible, you should try being flexible with your wedding date and look for off-season dates. These dates increase the chance of you being able to get the venue you want at possibly a lower rate. Your negotiating leverage will include the day of the week, the time of year and the length of your engagement. If you're thinking of a popular wedding venue in your neighborhood, make sure to call in advance – most often these places are booked quickly especially during wedding season. You'll also want to make sure the date you want is available before scheduling a walkthrough of the premises.
Schedule A Venue Walkthrough
You should be able to contact any potential venue and schedule a walkthrough with any one of their representatives. During your walkthrough, you will be able to ask any questions that you may have about the venue. If possible, try and get a walkthrough when the venue is set up for a wedding so that you will be able to assess the space and have a clearer picture of the wedding you want and if the venue will be able to accommodate it. A note of advice: take notice of the flow of events and activity. Are the rooms near one another? You'll want as seamless an event as possible.
Choose Your Colors and Themes Later
Many people make the mistake of having their theme and colors decided before they have a venue. It is best to wait until you have secured a venue and then choose the theme and colors that complement the venue.
Pay Attention to Lighting
If the venue you choose is dark, your photographer may have a hard time capturing all of the details that you have worked hard to plan. When looking at venues, consider asking if they offer additional lighting services should your photographer need it. If they do not then you might have to hire an external vendor for uplighting, projected gobos and intelligent lighting.
Look For Real Wedding Pictures Of The Venue
Looking at wedding planners' and photographers' websites for images of weddings in the venue you are considering is important. Because they won't be staged, they'll offer you a better idea of what the venue is capable of. These pictures will also help you determine the sizing of the venue.
A lot of venues will have a good relationship with their past customers and will be happy to provide you with referrals. If you are able to contact past customers you need to ask them about the service, how the food was, if they had any difficulties and wither there was anything they would have liked done differently.
If you are looking at having an outdoor wedding you need to find out if the venue has any contingency plans. This is important because you can never be sure what the weather will be like on your big day.
If the venue offers catering you need to ask for a tasting before the wedding. You should bring along a few people to help you so that opinions are consistent.